The 2018 Winter Olympics remind us how exciting a travel destination Korea is.
South Korea has an enviable range of high octane urban, spectacular mountain, beach and countryside destinations, a rich history, culture and cuisine as well as a world-renowned pop culture that rank South Korea among the most unique places in Asia. Visit by land or by cruise ship; the Korean peninsula has several major ports and a long-established maritime lifestyle.
Here's a list of places you'll want to include on a trip to South Korea.
Pyeongchang
You may never have heard of Pyeongchang until it was designated host of the 2018 Winter games, but this winter resort area is a natural Winter Olympic host. Its catchy slogan is 'Happy 700 Pyeongchang', referring to the city's 700 meter (2300 foot) elevation in the Taeback mountain region east of the South Korean capital of Seoul.
Photo Credit
As you'd expect, Pyeongchang sees seasonal snow and low enough temperatures to sustain outdoor winter sports. Two resorts in the region attract skiers, boarders as well as off-season mountain hiking. They're the core of the winter games sites, which have also resulted in additional hotel and sports facilities.
Photo Credit
The Olympics brought other advances, too. A new high-speed (250 km/h or 155 mph) train now brings visitors from Seoul in less than an hour and a half. Don't spend all your time on the slopes in Pyeongchang. Take a break for your spiritual wellness at one of the area's notable and historic Buddhist temples.
Seoul
Seoul is the 4th most economically powerful city in the world, the hub of its global technology, electronics, and auto industry wealth. Like other large, wealthy Asian cities with extraordinary modernism, high-tech, high-rise Seoul can feel surreal to visitors. The center of K-pop (Korean pop music), entertainment and media, this is a city that never sleeps. (Top Photo Credit)
Photo Credit
Seoul is land-locked and surrounded by mountains. The city was established on the Han river 2000 years ago, and has been Korea's capital for over six centuries. Korea's west-coast port of Incheon is right next door; if your Asia cruise has a call there, you'll be well-positioned to do some 'Seoul searching'.
Photo Credit
Seoul's neighborhoods are landmark destinations in a whirlwind city. Among the skyscrapers, neon, miles of packed arcades and landmark hotels, you'll be immersed in the lifestyle of one of the largest urban centers in the world, Korean style: chic drinks and dinners as well as upscale shopping for local and international brands.
But don't miss the historic and authentic side of Korea in Seoul. Artisan and local craft markets, the Joseon Dynasty palace complexes of traditional architecture, local festivals and religious ceremonies with celebrants in traditional dress are distinctly Korean experiences. The area is home to 5 UNESCO World Heritage sites as well its international design award-winning modern architecture.
Jeju Island
Formed by volcanic eruptions over 2 million years ago, Jeju island is the largest island off the Korean peninsula, 85 km (50 miles) south of the peninsula in the waters between Korea and Japan. Jeju's lava base limited early agriculture and resulted in a unique and pristine ecology that set Jeju apart from anywhere else on earth.
Photo Credit
It also created breathtaking lava formations including one of the biggest lava tubes in the world, nearly 9 km (over 5 miles) long and close to a hundred feet high and wide. Visitors are in awe of the full range of cave architecture like columns, benches, bridges and more. The 7.6 meter (25 foot) column of lava inside is the largest known in the world. The caves are home to exceptional wildlife, including a 30,000 strong colony of bats.
Photo Credit
Jeju is an increasingly popular resort island, with a sub-tropical, humid climate warmer than the rest of Korea and some stunning beaches. The island, historically isolated from the mainland, also has its own cultural, clothing, architectural and language traditions.
Busan
South Korea's second biggest city, on the south-east coast of the peninsula, is also the country's largest port. Many Asian cruises call at Busan. Like Seoul, it's a fascinating combination of history and tradition on the one hand, and eye-popping ultra-modern urban lifestyle on the other. Shop til you drop at the world's largest department store, and take a wellness break at one of the city's dozens of traditional spas using natural-sourced spring water.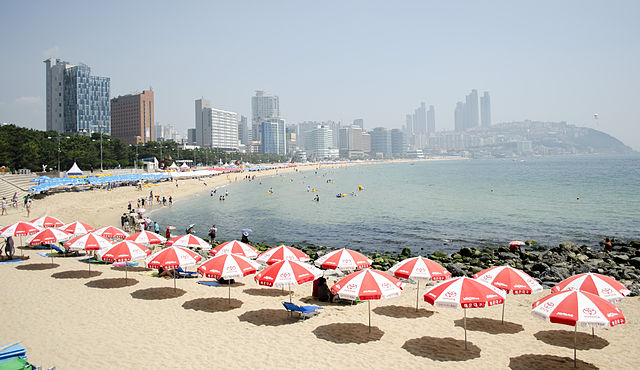 Photo Credit
Compared to Seoul, Busan is blessed with a warmer climate, beaches, and a maritime lifestyle including a renowned fish market, and signature seafood cuisine. Surrounding mountains provide cool air and magnificent vistas over the sea. Many Korean temples are at the tops of mountain hikes, so don't miss one spectacular exception, the Haedong Yonggung Temple on Busan's coast overlooking the Sea of Japan.
Photo Credit
The Demilitarized Zone (DMZ)
The DMZ is a 4 km (2 ½ mile) wide no man's land between the two Koreas that spans the entire peninsula 250 km (150 miles) from sea to sea. The DMZ is a very real reminder of the conflict between the two Koreas that remains unresolved today.
Don't let the name mislead you. It's called 'demilitarized', but Korea's DMZ is actually one of the most heavily armed, land-mined, barricaded and patrolled regions of the world. Tours into the DMZ bring the history of the Cold War conflict that split this country into high relief. It also soberly memorializes the lives lost and families separated as a result of the division of the country. Absent human activity in the area, several formerly endangered species have re-established footholds in the DMZ. So there's that small consolation. As an experience of military tourism and reminder of the repercussions of the Cold War that still exist today, Korea's DMZ is unlike anywhere else on the planet.
Photo Credit
The Olympic flame only burns in Korea during the games, but we hope the 2018 Winter Olympics shine a permanent spotlight on South Korea as one of Asia's most unique – and unmissable – travel destinations.
Start your Trip!
Copyright BestTrip.TV/Influence Entertainment Group Inc or Rights Holder. All rights reserved. You are welcome to share this material from this page, but it may not be published, broadcast, rewritten or redistributed.
It's China's 'Great Wall' for the 21st century. The 3 Gorges Dam spans the legendary Yangtze River for 2.3 km (1.4 miles) and is 185 m (over 600 feet) high. That makes it 5 times bigger than the Hoover Dam. Construction set a world record, using 16 million cubic m (21 million cubic yards) of concrete.
You may know about some of the controversies surrounding the dam. It flooded a 600 km (400 mile) reservoir to 175 feet above sea level. As a result, a million people were displaced, and architectural, cultural, and archeological sites (including 4000 year old cliff side burials of early Ba peoples) as well as farms and forests have disappeared under water. The dam has also had an impact on the river ecology upstream and downstream from the dam. It is blamed for damaging fish populations and the functional extinction of the Chinese river dolphin.
But, like the Hoover Dam in the U.S., Egypt's Aswan Dam, the Panama Canal or other extraordinary feats of human engineering of the planet, the 3 Gorges dam in China's Hubei province is an unforgettable travel experience. Controversies aside, it is awe-inspiring to take in the sheer scale and scope of human endeavor. Yangtze river cruises and most land tours in the region take you to one or more viewing points of the vast dam site.
So here are three things you might not know about this unparalleled structure:
It Protects the Region from Disastrous Flooding
One of the main reasons to build the 3 Gorges dam was to control flooding. The Yangtze river has endured catastrophic flooding events over the centuries. An estimated 300,000 people died in the 20th century alone in floods. Building the dam was designed to control the flow and protect 15 million Chinese and 1.5 million acres of farmland along the Yangtze from deadly river flooding.
It Generates Power
The Three Gorges Dam is the world's largest electric power generating station by installed capacity: 22, 500 MW. More than 2 dozen water-powered turbines produce 20 times the power of the Hoover Dam. Unbelievably, this massive dam produces less than 5% of the total energy needs of this country with 1.4 billion people. (Nearly 5 times the U.S. population and 50 times the population of Canada.)
The electricity produced by the Three Gorges Dam reduces China's use of coal for power generation by an estimated 31 million tonnes each year, preventing 100 million tonnes of greenhouse gas emissions from coal.
It Improves the Environment
The dam's regulation of water levels, and its 'shipping elevator' that increases transit time compared to step locks over river elevations, have facilitated more reliable shipping along the Yangtze. Inland shipping has increased over 5 times since pre-dam days. Barges are replacing trucks, thereby reducing road congestion and carbon dioxide emissions annually by millions of tonnes… directly improving China's (previously famously unimpressive) air quality.
Since the dam opened in 2012, it has blocked more than 10 million tonnes of waste matter including plastic bags, bottles and other garbage that would have otherwise flowed out to sea (but chemical water pollution is unaffected). It even has a garbage-ingesting 'tongue' above the dam, a rolling track on top of a garbage barge that pulls in garbage from the water, preventing it from entering the dam and damaging power generators… as well as flowing downstream to Shanghai and the ocean.
So Should you Travel There?
China's 3 Gorges Dam is a story with many shades of gray. The goals and results of the dam will continue to divide opinion. But it is now an irreversible part of the landscape of China's fabled jade-green Yangtze river, and a destination every visitor to China should see to contemplate the astonishing things humans can achieve… and at what cost.
(Photo: BestTrip.TV)
Copyright BestTrip.TV/Influence Entertainment Group Inc or Rights Holder. All rights reserved. You are welcome to share this material from this page, but it may not be published, broadcast, rewritten or redistributed
They call it Shopping with the Chef, and it's one of the most memorable of our Seabourn Moments.
The Ben Thanh Market in District 1 is one of the earliest surviving structures and a symbol of Ho Chi Minh City - formerly Saigon, which is still the name of HCMC's District 1. A market has been located here in on the river since the early 1600's.
Who better than the executive chef on our Seabourn cruise from Hong Kong to Singapore, Pascal de Portemont, and our local expert, Mr. Anh, to share with us the highlights one of South-East Asia's most famous markets?
This is no tourist market, though any savvy traveler makes sure to visit. Locals buy and sell produce so fresh it glistens, and seafood so fresh it still squiggles live in the bucket. Artisan crafts, textiles, baked goods and streetfood are irresistible.
But our quest with the Seabourn chef is ingredients for a seafood dish fit for Seabourn; watch this video for our adventures in the market and the dish we prepare with the chef on the top deck of this luxury cruise ship docked right in the heart of downtown Ho Chi Minh City, Vietnam.
Start your Trip!
Copyright BestTrip.TV/Influence Entertainment Group Inc or Rights Holder. All rights reserved. You are welcome to share this material from this page, but it may not be published, broadcast, rewritten or redistributed.
Most of the time, breaking an historic religious icon does not turn out well. But when workers moving a large and very old but otherwise unremarkable plaster statue of Buddha in Bangkok in 1955 dropped their load, they got lucky. The accident revealed an amazing secret: the plaster with modest inlaid glass decoration was a decoy shell concealing the world's largest solid gold Buddha.
By Lynn Elmhirst, Producer/ Host, BestTrip.TV
Hidden in Plain Sight
The design of the Buddha suggests it dates to the 13th or 14th centuries. It's believed when dangerous times were at hand during Burmese invasions in the 1700's, the solid gold statue was plastered over to cleverly hide the magnificent religious treasure in plain sight. In the confusion, dynastic changes, and moves that followed, the Golden Buddha's secret was lost to time. And so it sat under a simple open air roof in the unremarkable Bangkok temple Wat Traimit for hundreds of years – until it was dropped moving it to an indoor location.
Rather than hiding this phenomenal – and phenomenally valuable – discovery, temple officials have kept the Golden Buddha available for public worship at the temple. In 2010, they even opened a new, gold-leaf trimmed chapel to house this priceless treasure.
All photos: BestTrip.TV
That put Wat Traimit at the top of our film crew's must-visit list among the 400 temples in Thailand's capital city. Gold features prominently in Thailand's vivid national palette and design, but being face to face with the world's largest solid gold Buddha is heart-stopping. In ways we didn't expect.
Record Breaking – but Humble
It weighs 5.5 tons. And it's about 83% pure gold. That makes the gold in the statue alone worth about $250 million. The Golden Buddha's seated figure rises 15 feet above kneeling worshippers.
On arrival at the temple, you climb 4 stories of white marble steps leading to the chapel perched at the top overlooking the Bangkok skyline. Once inside, you might expect bristling guards, high tech security, crowds marched past with barely time to take a quick pic. But for a treasure of its worth and historic significance, the Golden Buddha's existence is almost humble.
The author (left) at Wat Traimit. No bare shoulders, no bare knees, and shoes off. Respecting Thai temple etiquette.
The marble and gold leafed chapel sounds extravagant, but it's quite restrained and no more spectacular than many other temple structures in Thailand. The Golden Buddha may be a tourist attraction, but not a tourist trap. Monks, local worshippers and visitors mingle. Instead of a vast hall to maximize visitor numbers (and revenue), the massive statue occupies a small room.
For visitors, that intensifies the experience. The deep reddish gold almost pulses in the way it catches dim light and warms the nearby cool white marble walls. Only a couple of dozen visitors and worshippers are able to fit inside the chapel at any given time. Worshippers place offerings and visitors can join them on a single carpet only a few feet in front of the Buddha.
It may be solid gold, but the temple monks and fellow worshippers interact with the Golden Buddha as they would any other neighborhood temple Buddha.
That might be the most remarkable part of our visit to Wat Traimit. We were expecting to be – as one of our production team said – 'wowed by the bling'. Instead, we experienced a space of beauty and almost simple serenity. As if the Golden Buddha were still hiding behind its plaster mask. Simplicity and serenity, mainstays of Buddhist practice, in the presence of what might be the most valuable and storied piece of solid gold in existence, might be the real treasure of the statue.
Start your Trip!
Copyright BestTrip.TV/Influence Entertainment Group Inc or Rights Holder. All rights reserved. You are welcome to share this material from this page, but it may not be published, broadcast, rewritten or redistributed.
Springtime cherry blossom viewing has become one of the best-known Japanese festivals around the world.
BestTrip.TV's Producer and Host Lynn Elmhirst shares her experience of 'Hanami', and some tips if you are lucky enough to travel to Japan during those magical few weeks every spring.
I'm a tree hugger. I love nature, woods walks, gardens and flower shows, making fresh bouquets for my home… I've even studied Japanese flower arranging (ikebana). So imagine how excited I was to be in Japan during the season when their famous cherry blossoms are in bloom. And to be invited to join a 'Hanami' party. (Top image credit).
'Hana' means flower in Japanese, and in this context, means almost exclusively cherry blossoms (sakura), although it can also mean other flowering fruit trees, especially plum (ume). 'Mi' is from the verb to see or view.
So Hanami is just a simple Japanese word 'Flower blossom viewing', but it has become one of the most revered Japanese traditions.
Hanami as a custom is believed to go back over a thousand years, even as far back as the 700's, during a time of tremendous cultural growth in Japan.
At that time, the practice was more closely related to agricultural and divining purposes, to announce the rice-planting season and predict the harvest. Naturally, offerings were made to the spirits in the fruit trees. This eventually evolved into including sake drinking in the offering.
Well you know where it went from there. Parties.
Once an Emperor in the Heian period started holding flower-viewing parties with sake and feasting beneath the blossoming trees, he set the scene for centuries to come. Poetry was written about the lacy, delicate flowers, seen as a symbol of the short-lived beauty of life itself. Masses of plantings in full bloom appear from a distance like fluffy pale pink clouds, inspiring generations of artists. Paintings, wood block prints, and tapestries celebrated the barely-pink blossoms and their increasing meaning to Japanese society. Where royalty and artists set a trend, the rest of society follows. Soon, even common people were planting cherry trees and taking picnic meals and drinking sake under the boughs of blossoming cherry trees.
Fast-forward to today, and that custom remains. I had some vague notion in my head that we'd stroll in awe under bowers of blossoms in the castle grounds, perhaps ending the uplifting Nature experience with some tea.
Instead, one member of our group went out at 6 am that morning with plastic picnic sheeting to lay out and stake a claim to a prime picnic spot under a particularly beautiful tree with a broader view over the park. By the time we joined him late afternoon, other parties had clearly been going on for hours. And the sake, beer, and shochu (sometimes called 'Japanese vodka') had been flowing.
The blossoms were breathtaking, but they didn't seem to be the star of the show. Cherry blossoms were just the set. It was all about the party. Barbecues, drinks, portable karaoke machines created a raucous scene – in an admittedly pretty magical atmosphere. In many places, hanami viewing starts after work – is even a work /colleague event – and continues late into the night. Some parks hang paper lanterns to light the trees.
Night Hanami. Image credit.
The contrast between the charm of the blossoms and trees and twinkling lights and the noisy parties below is shocking to a first timer like me. I found myself trying to block out the noise to find a sense of the wonder and spirituality of the earliest Hanami participants.
And for all the seeming irreverence, the Japanese take viewing very seriously. People past the age of enjoying raucous parties still do hanami, often more in temples, where they follow prayer rituals. TV news and papers forecast the 'cherry blossom front', following the season from the warmer south to the cooler north, only a couple of weeks in each place, and only a few days of truly prime viewing. In the big cities of Osaka and Tokyo and the ancient capital Kyoto, cherry blossom season normally takes place at the end of March and early April.
A blossom forecast with the predicted dates of blossoms. The numbers are for dates (3.22 is March 22). Note the "cherry blossom front" moves from South to North. Image credit.
If you are traveling to Japan on pleasure or business any time near cherry blossom season, find a way to participate in a party. If you do 'hanami', there are some etiquette rules to follow:
Tips for Hanami in Japan:
Be respectful of the mass of blossom admirers and the cherry trees themselves; don't shake branches, step on roots, or pick blossoms.
Many blossom parties and venues can be rowdy, but not always. If most admirers are in prayer or quiet contemplation, a loud foreigner can wreck that experience for them AND the reputation of foreigners in Japan. Don't be that guy.
Although parties with sake, beer, shochu (sometimes called 'Japanese vodka') are part of the modern ritual, be warned that not all parks permit alcohol; hopefully, you're going with Japanese friends, a guide, or colleagues, and they'll know if you can toast the blossoms with spirits.
Similarly, not all parks permit barbecues, so your packed Hanami picnic may have to be cold and pre-prepared.
Some parks don't have garbage collection capacity for the huge flow of Hanami traffic; be prepared to dispose of your garbage in your own bags.
The Japanese National Tourism Organization publishes a list of the best places to view cherry blossoms. You can find it here: http://www.jnto.go.jp/eng/location/interests/cherry.html
Start your trip!
Copyright BestTrip.TV/Influence Entertainment Group Inc or Rights Holder. All rights reserved. You are welcome to share this material from this page, but it may not be published, broadcast, rewritten or redistributed.
Kung Hei Fat Choy!
BestTrip.TV discovers the traditions, the spectacle and the little known facts behind one of Hong Kong's biggest festivals.
Chinese New Year - or Lunar New Year - is celebrated not only in mainland China, plus Hong Kong and Macau, but also in Chinese communities around the world, as well as throughout South-East Asia: Singapore, Viet Nam, Thailand, Taiwan, the Philippines and others.
Chinese New Year falls on different dates every year in January or February, with each year dedicated to a different creature of the Chinese zodiac. Celebrations last days in Hong Kong, and include adorable lion dances, temple activities, special foods, flowers, and plants, wearing red, exchanging gifts and other traditions for good fortune, a magnificent parade in downtown Hong Kong... and fireworks!
We visited Hong Kong on Chinese New Year, and we think it's one of the most exciting times to visit one of the world's most exciting cities.
It's hard to imagine the awe-inspiring Hong Kong harbor front skyline become even more spectacular... but this Chinese New Year fireworks show takes it to a whole new level.
Start your Trip!
Copyright BestTrip.TV/Influence Entertainment Group Inc or Rights Holder. All rights reserved. You are welcome to share this material from this page, but it may not be published, broadcast, rewritten or redistributed.
Get the Travel Tips
Get The Savvy Traveler Newsletter
Places we've blogged about